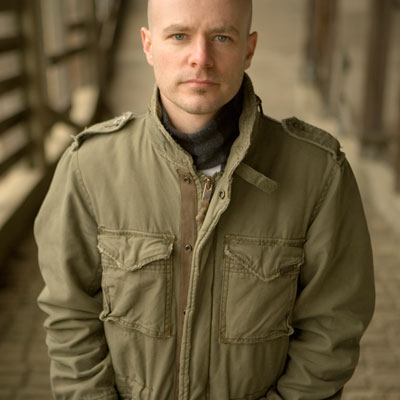 One of my favorite musicians over the past few years has been
Derek Webb
. He became relatively popular through being one of the founding members of Caedmon's Call, but has been doing solo work now for about 5 years.
Derek is a prophet for our current church culture, and has been criticized in similar ways as many of our biblical prophets. His lyrics have a beautiful way of calling out the negative issues of the church while still revealing his obvious belief in, and hope for, the church. Musically, he could probably be categorized as a bluegrass singer/songwriter, with powerful lyrics and strong acoustic guitar.
His newest album,
Stockholm Syndrome
, has received a great deal of scrutiny. Musically, this cd is a departure from his usual style, incorporating various genres of music including dance beats and a 50's doo-wop ballad called "Frankie, Please." The primary criticism has been aimed at the song "What Matters More." The song is critical of Christian culture for saying they affirm certain things but not backing up their words with real, practical actions, for not giving a "shit" about the "50,000 people who die everyday." Obviously it is the use of that sort of language that is receiving the negative press. I highly recommend this album and any other work that Derek Webb has done. His music has greatly impacted my life and challenged the way I approach the church and ministry. Enjoy this video of "What Matters Most."